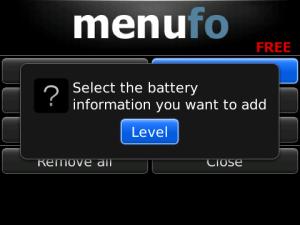 Tag:
9900 apps
9930 apps
menufo
Overview :
menufo v2.0.0 for bb 9900,9930 apps
Description:
Use MenuFo FREE to put all the information you need in your menus! Add time, data, device info, internet info, battery info, memory info and phone info to over 30 different BlackBerry® menus or all BlackBerry® menus. That way you can see all the information you need in the blink of an eye.
Version 2.0:
Fixed the problem that the menu items would disappear after a reboot or reset. Also, when you now click a menu item the text will be copied to the clipboard. Also some minor bugs have been fixed.
You can add every item to only specific BlackBerry® menus (like the browser, agenda, sms, etc) or to all BlackBerry® menus.
Have a look at the screenshots to get an idea what you can do with MenuFo FREE.
Features:
Time
12 hour
12 hour + seconds
24 hour
24 hour + seconds
Battery
Level
Device
ID (PIN)
Memory
Total flash size
Internet
Has internet
Phone
Network name
If you buy MenuFo full you will get all the following features:
Time
12 hour
12 hour + seconds
24 hour
24 hour + seconds
MM-dd-yyyy
dd-MM-yyyy
yyyy-dd-MM
Milliseconds
Month in text
Day in text
Battery
Level
Status
Temperature
Voltage
Battery removable
Device
ID (PIN)
Name
Lock timeout
Manufacturer name
Platform version
Software version
Has camera
Is password enabled
Is simulator
Memory
Total flash size
Free flash size
Size needed by VM
Size VM wants to recover
Free RAM size
Internet
Has internet
WLAN is connected
WLAN Channel
WLAN Signal level
WLAN SSID
Phone
Network name
Mobile Country Code
Mobile Network Code
Network Country Code
Network ID
Network type
Number of available networks
Signal level
State
Data service operational
Keywords:
Menufo, menuinfo, menu, item, menuitem, clock, time, date, device, info, inf, data, statistics, facts, figures, report, knowledge, communication, menuinformation, free, buy, cheap, try, before buy
Model:
Blackberry 8350i (320*240) Related Devices Model: 8500, 8520, 8530, 9300(Kepler), 9330/Blackberry 83XX Series (320*240) Curve Devices Models: 8300, 8310, 8320, 8330 / Blackberry 87XX Series (320*240) Devices Models: 8700c, 8700r, 8700f, 8700g, 8703e, 8707, 8707g, 8707v .etc /Blackberry 88XX Series (320*240) Devices Models: 8800, 8820, 8830 .etc /Blackberry 89XX Curve Series (480*360): 8900(Javelin), 8910(Atlas), 8930, 8950, 8980/Blackberry 90XX Bold (Onyx) Series (480*320) Devices Models: 9000, 9020(Onyx)/Blackberry 96XX Tour (Niagara) Series (480*360):9600, 9630, 9650(Tour2), 9700(Bold2), 9780, Dakota, Apollo /Blackberry 95XX Storm Series (360*480):9500, 9510, 9520, 9530, 9550(Storm2), 9570(Storm3), 9800(Torch), Torch2/Blackberry Pearl 3G Series (360*400) Devices Models: 9100, 9105, 9670(Style)/Blackberry 99XX (OS 7.0) Series (640*480) Devices Models: 9900, 9930