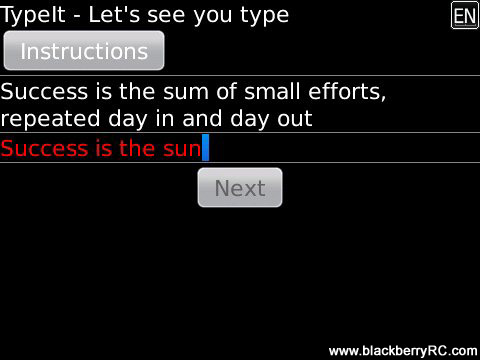 Tag:
9370 apps
TypeIt
Overview :
free TypeIt v1.0.0 for blackberry applications
OS 4.6, 4.7, 5.0, 6.0, 7.0
Model: Pearl Flip 8220, Pearl Flip 8230, Pearl 9100 3G, Pearl 9105 3G, Curve 8520, Curve 8530, Curve 8900, Curve 8910, Curve 8980, Bold 9000, Curve 9300 3G, Curve 9330 3G, Tour 9630, Bold 9650, Style 9670, Bold 9700, Bold 9780, Bold 9788, Curve 9350, Curve 9360, Curve 9370, Storm 9500/9530, Storm2 9550/9520, Torch 9850/9860, Torch 9800, Torch 2 9810

Description:
Introducing TypeIt, the latest addition to qbotron.com! The ultimate BlackBerry® app for ultimate BlackBerry® user, TypeIt will allow you to test your typing skills on your BlackBerry® and compare your scores with other BlackBerry® users. Increase your typing speed by trying to get onto the top 50 list! (requires BlackBerry® Email service enabled)
TypeIt takes motivational quotes to help you get inspired as you type away. Whether you're a business man or a student, TypeIt will not only get your thumbs working but also your motivation up for the rest of your day. It's a free app so why not give it a try?!
TypeIt is currently supported for all OS5 and OS6 devices, please see the screenshot to see how TypeIt works!
Please be sure to check out qbotron.com for more awesome applications and contact support@qbotron.com for ANY questions/problem/comments (how we can improve the app)/love.