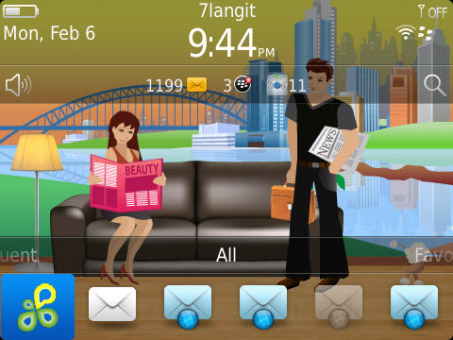 Tag:
Love Battery
Overview :
free Love Battery 1.1.7 for 95xx,96xx,97xx,98xx, 99xx apps
size: 759 kb
os : 6.0 - 7.x
Model:
Blackberry 96XX Tour (Niagara) Series (480*360):9600, 9630, 9650(Tour2), 9700(Bold2), 9780, 9790, Dakota, Apollo /Blackberry 95XX Storm Series (360*480):9500, 9510, 9520, 9530, 9550(Storm2), 9570(Storm3) / Blackberry Torch Series: 9800(Torch), Torch2, 9810, 9860/Blackberry Pearl 3G Series (360*400) Devices Models: 9100, 9105, 9670(Style)/Blackberry 99XX (OS 7.0) Series (640*480) Devices Models: 9900, 9930, 9981

Description:
This half app-half theme has unique feature. It basically works like an app, you have got to install it and it basically runs in the background.
The main feature is at the Homescreen, where the figures in the app will be moving accordingly to BlackBerry battery meter. When the battery is full they will be close to each other, while they move away from each other as the battery is dropping. It is like watching a story unfolds in your Homescreen.