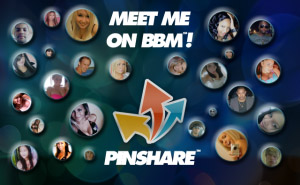 Tag:
BBM
9790 apps
PinShare
Overview :
PinShare v1.0.3 for BBM apps
OS 5.0,6.0,7.0
size:458.98 KB
model: Pearl 9100 3G, Pearl 9105 3G, Curve 8520, Curve 8530, Curve 8900, Curve 8910, Curve 8980, Bold 9000, Curve 9300 3G, Curve 9330 3G, Tour 9630, Bold 9650, Style 9670, Bold 9700, Bold 9780, Bold 9788, Curve 9350, Curve 9360, Curve 9370, Storm 9500/9530, Storm2 9550/9520, Torch 9850/9860, Torch 9800, Bold 9790, Torch 2 9810, Bold 9900/9930, 9981

Description:
With over 70,000,000 BBM™ users and growing, PinShare™ just might be the most anticipated BlackBerry® app EVER!
★ LADIES! DOWNLOAD PINSHARE & CREATE A PROFILE FOR YOUR CHANCE TO WIN A SCREEN MUNCHER TANK TOP! ★
We've all seen or left BlackBerry® PINs everywhere - in forums, on web sites, in app reviews and on Twitter & Facebook profiles. Have you ever wished there was a quicker, easier way to meet all of these people and connect with them in one convenient and easy-to-use place? Well, now there is a way - with PinShare™!
What is PinShare™?
PinShare™ is a THE FIRST AND ONLY BlackBerry® app that quickly and easily connects you via BBM with tons of new people, BFFs and everything in between simply by using your BlackBerry® PIN!
How does PinShare™ work?
PinShare™ lets you effortlessly flip from one profile pic and short self description to the next. Within minutes you can literally view hundreds of PinShare™ profiles! When you find someone you're interested in chatting with, simply Connect! Send messages safely without exposing or giving away your PIN. Once connected, you will then be able to chat directly through BBM.
Download now and be part of the PinShare™ revolution. You never know who you might meet!
BBM : PIN : Pin : PinShare : Pin Share : Messenger : BlackBerry : Meet : People : Chat : Flirt : Talk : Motek