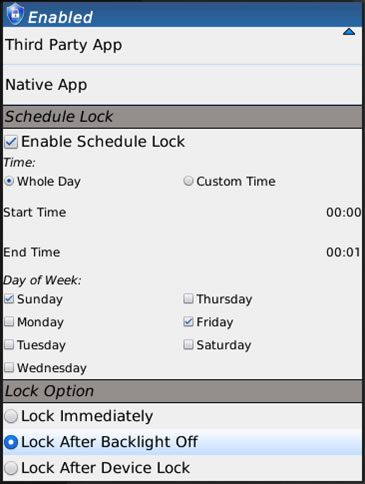 Tag:
9780 apps
iLocker
Dakota apps
Overview :
iLocker Pro v1.0.0 apps for blackberry
Description:
iLocker Pro is the privacy that allows you to block any third-party native application and you choose automatically, and restricts access to it without your personal password.
iLocker Pro is different from other local applications, as not only a simple function to lock the BlackBerry.
It provides users with a CALENDAR to block applications on your BlackBerry 3 Options which brings lock are immediately lock, Lock After backlight and block after block devices.
You are able to "Enable" or "off" the Pro iLocker anytime, anywhere, without returning to select or de-select the applications you want to block again.
Features:
1) Block any third-party native application or automatically.
2) Set the time you want to block applications.
3) Automatically Lock / Protect your BlackBerry applications, even after rebooting.
4) Disable or enable iLocker Pro anytime, anywhere.
5) High-level encryption password.
6) Simple and easy to use.
7) No additional hardware needed.
8) The low memory consumption.
Model:
Blackberry 81XX Series (240*260) Pearl Devices Models: 8100, 8110, 8120, 8130/Blackberry 82XX Series (240*320) Pearl Flip Devices Models: 8200, 8220, 8230/Blackberry 8350i (320*240) Related Devices Model: 8500, 8520, 8530, 9300(Kepler), 9330/Blackberry 83XX Series (320*240) Curve Devices Models: 8300, 8310, 8320, 8330 / Blackberry 87XX Series (320*240) Devices Models: 8700c, 8700r, 8700f, 8700g, 8703e, 8707, 8707g, 8707v .etc /Blackberry 88XX Series (320*240) Devices Models: 8800, 8820, 8830 .etc /Blackberry 89XX Curve Series (480*360): 8900(Javelin), 8910(Atlas), 8930, 8950, 8980/Blackberry 90XX Bold (Onyx) Series (480*320) Devices Models: 9000, 9020(Onyx)/Blackberry 96XX Tour (Niagara) Series (480*360):9600, 9630, 9650(Tour2), 9700(Bold2), 9780, Dakota, Apollo /Blackberry 95XX Storm Series (360*480):9500, 9510, 9520, 9530, 9550(Storm2), 9570(Storm3), 9800(Torch), Torch2/Blackberry Pearl 3G Series (360*400) Devices Models: 9100, 9105, 9670(Style)