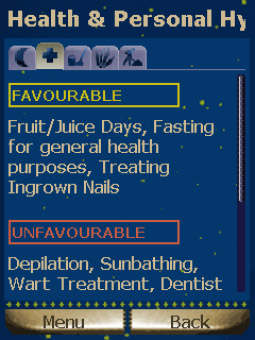 Tag:
Lunar Calend
Overview :
Lunar Calendar 2013-2014 - The Art of Timing 1.0
File Size: 312 KB
Required: 4.5.0 or higher
Model:
Pearl 8100, Pearl 8110, Pearl 8120, Pearl 8130, Pearl Flip 8220, Pearl Flip 8230, Curve 8300, Curve 8310, Curve 8320, Curve 8330, Curve 8350i, Curve 8520, Curve 8530, 8700, 8707, 8800, 8820, 8830, Curve 8900, Curve 8910, Curve 8980, Bold 9000, Pearl 9100 3G, Pearl 9105 3G, Curve 9300 3G, Curve 9330 3G, Tour 9630, Bold 9650, Style 9670, Bold 9700, Bold 9780, Bold 9788, Storm 9500/9530, Storm2 9550/9520, Torch 9800, Torch2, 9810, 9860/Blackberry Pearl 3G Series (360*400) Devices Models: 9100, 9105, 9670(Style)/Blackberry 99XX (OS 7.0) Series (640*480) Devices Models: 9900, 9930, 9981

Description:
IMPORTANT NOTE: This version is in English language only. For the German version please download the App "Mondkalender 2013/2014 - Vom richtigen Zeitpunkt" The Lunar Calendar according to acclaimed writers Johanna Paungger-Poppe and Thomas Poppe is a practical day-to-day guide through the year. Today, we often forget the significance of the phases of the moon on nature and thus on our own lives. With its comprehensive Guide and Glossary, the Lunar Calendar will re-familiarise you with this ancient knowledge and help you find the right time for many tasks of your day-to-day life. The Calendar Function is a useful tool for planning ahead and determining the right time for activities in the areas of health, hygiene, household, gardening and construction. In addition, there is the option to create graphic displays of different people's biorhythms and carry out partner rhythm comparisons. The programme's versatile functions enable the user to effortlessly apply Lunar Knowledge, tailored individually to your personal requirements.