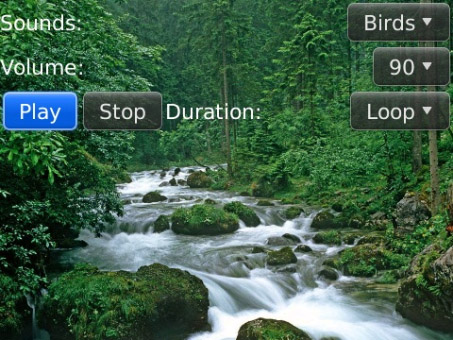 Tag:
Nature Sound
Overview :
Nature Sound Animals 1.0.1 - relaxing nature sounds
File Size: 2 MB
Operating System: 5.0.0 or higher
Model:
Blackberry 89XX Curve Series (480*360): 8900(Javelin), 8910(Atlas), 8930, 8950, 8980/Blackberry 90XX Bold (Onyx) Series (480*320) Devices Models: 9000, 9020(Onyx)/Blackberry 96XX Tour (Niagara) Series (480*360):9600, 9630, 9650(Tour2), 9700(Bold2), 9780, 9790, Dakota, Apollo /Blackberry 95XX Storm Series (360*480):9500, 9510, 9520, 9530, 9550(Storm2), 9570(Storm3)/Blackberry Torch Series: 9800(Torch), Torch2, 9810, 9860/Blackberry Pearl 3G Series (360*400) Devices Models: 9100, 9105, 9670(Style)/Blackberry 99XX (OS 7.0) Series (640*480) Devices Models: 9900, 9930, 9981

Description:
Need to relax? NatureSounds Animals contains 10 high quality animal and nature sounds to help you relax, fall asleep, activities such as yoga and meditation.
NatureSounds is also perfect for massage therapy on the go. You can play the nature sounds from once to 3 hours long or loop all the sounds until you stop it. You will never get bore of nature sounds.
Can't sleep? Just start Nature Sounds and let it play for 15 minutes. Adjust the volume to your environment.
With NatureSounds you can select any of the 10 sounds to play and adjust the volume and set the duration time. You can set to loop all the 10 sounds and repeat until you stop it.
Nature Animal Sounds
"Birds"
"Birds Chimes"
"Birds Loon"
"Birds Frogs Loon"
"Frogs Owl Wolve"
"Birds Horse Crickets"
"Rain Waterfall Frogs"
"Birds Sheep Grasshopper"
"Seagulls Loon"
"Wolves"