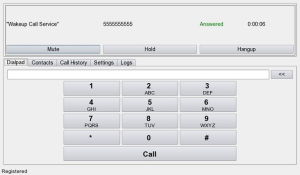 Tag:
Taki
Overview :
Taki v1.0.1 for playbook applications
File Size: 6745 KB
Required Device Software:
Tablet: 2.0.0 or higher

Description:
Native SIP softphone client for BlackBerry® PlayBook™.
This phone is not tied to any VoIP service and can be used with any SIP provider.
It is also possible to make calls to Skype customers if you have a Skype SIP profile or your SIP provider supports interconnection with Skype.
Features:
- SIP protocol
- Multiple calls support
- Address book
- Call History
- DTMF on active calls
- Call Hold, Mute
- Easy setup
- Call logs for troubleshooting
This application is in active development. Please report found bugs and feature requests via support email, bug tracker or at project web site:
http://taki.sourceforge.net
Information about updates and current development available at http://taki.sourceforge.net