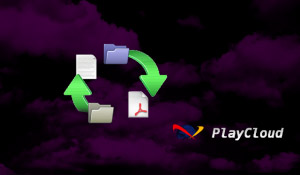 Tag:
PlayCloud
Overview :
PlayCloud 0.3.0 for BB playbook software - US$0.99
source: http://www.playbookdaily.com/2012/06/11/playcloud-for-blackberry-playbook-file-manager-with-built-in-cloud-service/

Nicolas at proglab let us know about quite a powerful file manager with built in cloud service. Play, open, sync your files and directories from your BlackBerry® PlayBook™. With PlayCloud, you can merely sync your local files with a remote cloud as FTP, WebDAV, DropBox… and of course your BlackBerry® Mobile with Bridge.
Details: By default, you browse your local Document folder, but you can browse whole your filesystem or the cloud services you have set.
PlayCloud is perfectly integrated to your interface in using the same skin.
At last, PlayCloud uses all device capabilities to be faster.
To define default settings, change order, read the help… swipe down from the top screen to view the menu.
Features implemented:
* Local Documents browsing
* System browsing (to browse whole the file system)
* Bridge browsing (the bridge has to be enabled)
* Dropbox support
* Configuration from swipe down menu
* Launch the default application from the file type
* Single or multi-select mode
* Order feature
* Embedded help pages
* Rename, create files or directories
* Copy, paste and move files or directories
* Delete files or directories
* Show file details