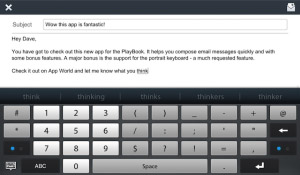 Tag:
Compose Emai
Overview :
FREE Compose Email v1.0.0.6 - blackberry playbook applications
Required Device Software:
Tablet: 1.0.7 or higher
Description:
Compose email how you want to! Featuring support for the portrait keyboard.
- Compose email in Portrait or Landscape
- Integration with the native Messages App
- Automatic copy-to-clipboard
- Copy & Paste
- Launches faster than Messages
- Matches style of the 2.0 Messages, Contacts, and Calendar apps
Even better - Compose Email is free! Sponsored by the best note pad app out there, Many Notes.
Download it today then check out Many Notes, the powerful notepad app with Drag and Drop, Auto-save, and more!