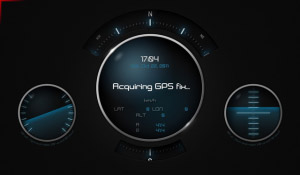 Tag:
PlayBook
VCMS
Overview :
VCMS v1.0.5 for blackberry playbook apps
Required Device Software:
Tablet: 1.0.3 or higher

Description:
VCMS - Vehicle Counters and Monitoring System is graphicly unique application with all the functions and informations you'll ever need on the road, water or in the sky. Application is designed by HedoneDesign.
Features:
- Compass
- Odometer (dual (A, B) counter with reset function)
- Latitude and Longitude (Where am I)
- Altitude (How high am I)
- Speed
- Angle (left / right - forward / backward) - when not driving!
- Accelerometer
- Day / Night mode
- Calibration for angle meter
- Speed units (km/h, mph, knots)
- Trip units (km, mi, nmi)
- Altitude units (meter, feet)
- Override device backlight timeout
- Clock
- Date
Check Video preview here: http://www.youtube.com/watch?v=dlbYI62U5Pw
XtH description: "VCMS provides, in stunning, airplane cockpit style, compass, odometer, attitude, altitude, speed, and your exact latitude and longitude. It's the information that's been sitting in your BlackBerry® PlayBook™, unnoticed, all this time, now presented to you in one fiendishly clever app!
Nobody does beautiful dials and gauges like HedoneDesign, nobody. I used to wake up my Storm screen just to admire those on the Vault theme. Now there's an app that gives you ongoing useful information on Hedone's unique dials so you can just stare at them.
The compass spins with elegant slowness (clearly modeled after oil-damped compasses). The attitude dials on either side will have strangers looking at how BlackBerry® Playbook™ got the large balls into such a thin device. The altitude (adjustable to read in feet or meters), speed (kph or mph, and Knots, yeah that's right), latitude and longitude, distance traveled (dual trip) are easily read on a beautiful, creamy light green or deep blue and black (day and night modes) screen. The time and date are subtly included on the dial which somehow never appears crowded. You can easily reset the calibration anytime so changing the position or your BlackBerry® PlayBook™ from lap to dashboard is no problem.
Best of all, unlike your phone, you need no wireless connection for any of these, so take your BlackBerry® PlayBook™ out to play in your boat, plane, mountain, or arboretum."
For detailed description check: http://www.i-mentalist.com/applications/vcms/
IMPORTANT: Before you can actually use i-Mentalist VCMS you must first obtain a GPS fix on your current position. Generally this happens automatically each time you open i-Mentalist VCMS on your BlackBerry® PlayBook™. Indoor GPS reception is generally not possible. Therefore, to enable a GPS fix to be obtained you need to ensure that your BlackBerry® PlayBook™ is in a clear view of the sky. Even in best conditions, a GPS fix may take up to 15 minutes.
Information shown in i-Mentalist VCMS are results of interneal BlackBerry® PlayBook™ GPS device. i-Mentalist VCMS does not correct this information in any way. If you think information shown is not valid, please ensure that your BlackBerry® PlayBook™ is in a clear view of sky. Signal meters in i-Mentalist VCMS will give you basic information on how good your GPS connection is. If that doesn't help getting better results, please check blackberry.com for more information.
When using your BlackBerry® PlayBook™ in a vehicle, it is your sole responsibility to place, secure, and use the device in a manner that will not cause accidents, personal injury or property damage, or in any manner obstruct your view or vehicle safety equipment. The user of this product is solely responsible for observing safe driving practices. Do not operate your BlackBerry® PlayBook™ while driving. Park the vehicle first. It is your sole responsibility that the vehicle mount installation instructions are read carefully, understood and followed.
If you have confirmed that internal GPS device is working in other applications, yet not working in i-Mentalist VCMS, please contact us at www.i-mentalist.com