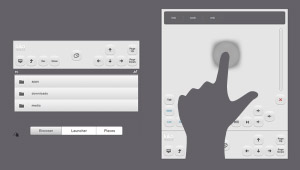 Tag:
PlayBook
luko Remote
Overview :
luko Remote v2.0.0 for bb playbook apps
Required Device Software:
1.0.0 or higher

Description:
This application lets you use your tables as a mouse, keyboard and file explorer for your PC.
It is compatible with windows xp/vista/win7.
It works over wi-fi network.
Before you run remote, server application must be installed on your PC - it is available at
Make sure that server is not blocked by firewall.

Main features:
- file browser: browse your PC filesystem, open files and folders from your tablet, add files/folders to your favourite list (add it to Launcher and Places just by press and hold selected item in the Browser window)
- keyboard: use virtual keyboard to type on PC, combine keyboard with alt, ctrl, shift to make specific shortcut combination. Use swipe gesture to reveal and hide keyboard.
- function keys: use buttons that are not available from tablet's virtual keyboard (media, arrow buttons, alt, ctrl, shift, esc, enter, pageup/down, tab, close application button)
- virtual touchpad: swipe from the top or press mouse icon button to use your tablet as a mouse with lmb, mmb, rmb and scroll support.