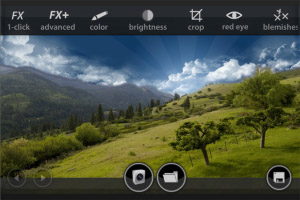 Tag:
Photo
TouchUp
Overview :
TouchUp Pro - Photo Editor v2.5.3
Required Device Software
1.0.0 or higher

Description
** NOTE: We are aware of the crash issue in the current version, and have already released a fix. Please don't slam the app with negative reviews! **

Easily bring out the best in your Photo's with TouchUp Pro!
Quick, clean User Interface lets you edit photos in a matter of seconds. In terms of ease of use, this is hands down the best Photo Editing application on the App World today!
Gone are the clunky buttons, over-designed interfaces and boring menu's. We've created a simple, lightweight interface that gets out of your way and lets you work with ease.
Simple to use, but still powerful.
Features Include:
* Load pictures from Camera or Library
* Red Eye Removal
* Pimple / Blemish Removal)
* Sharpness / Blur
* Contrast / Brightness
* Hue / Saturation
* Rotation / Flip
* Cropping
* Resize on Save
* Unlimited Undo / Redo
* Extremely stable, no freezing/crashing
TouchUp Pro has a number of "1-click" effects:
* Auto-Contrast
* Auto Brightness
* B & W
* Vignette
* Vintage
* Sepia
* Red Pop
* Dark Pop
* Deep Purple
* Green Tint
* High Contrast
* Low Saturation
* High Saturation
All effects are stackable. Combine them to make a ton of different looks.
We also offer a number of "Advanced Effects"
* Advanced Vignette
* Advanced Vintage
* Advanced Sepia
* RGB Channels
NOTE: Any issue related to browsing for Photo's are the fault of the PlayBook OS. We rely on the native image browser to allow you to choose your photo's.