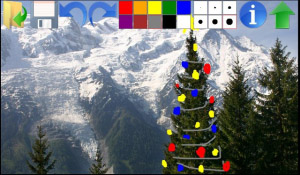 Tag:
PlayBook
Foto Fun
Overview :
Foto Fun v1.5 for playbook apps
Required Device Software
1.0.0 or higher

Description
Foto Fun is a great application for adding pizazz, fun, and flamboyancy to your photos. Finally you can personalize your photos the way you want to!!
Choose a picture from the photo library, and begin personalizing. Using intuitive controls, you can easily start drawing/painting on you picture, and change it the way you want to.
-Work in Landscape mode, for ease of use.
-Choose from multiple different colors and brushstrokes.
-Undo any number of accidental brush strokes.
-Hide the toolbar in full screen mode.
-Save your work to the photo library for later viewing and sharing.
Once your work is finished, Foto Fun gives you the option to save it for later sharing with friends or family.
Questions or Feature Suggestions? We'd love to here from you!!
Email us at: help.jdagmy@gmail.com