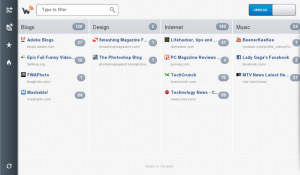 Tag:
Web Reader
Overview :
Web Reader v0.9.9 for blackberry playbook applications
Required Device Software:
1.0.0 or higher

Description:
Web Reader for BlackBerry® PlayBook™ is a revolutionary and powerfull tool that will keep you informed about all the news in your related business field.
You do not need to scan different websites for the information you are looking for anymore. With the help of the rss reader, you will get all the required information in one place keeping you well informed in an efficient and timely manner.

Key Features:
- Keeps you informed in any domain
- Get notified whenever new articles are available on websites
- Safe and secure authentification with Google
- Gets your favorite news in one place
- Syncs with Google Reader
- News articles preview
- Star, like and mark rss feeds as read
- Discover and subscribe to any news source or rss feed around the web
- Share your favorite news stories via Facebook, Twitter and e-mail
- Performant, optimized for minimum memory and battery usage
- Video playback support
- Auto orients
- RSS and atom feeds supported

Follow us on Twitter @webreader or on Facebook to get the latest news and updates about Web Reader.