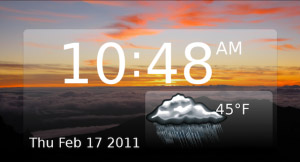 Tag:
Clock
Talking
Alarm
Bed-Buzz
Overview :
Bed-Buzz V1.3.3 - Free Talking Alarm Clock
Required Device Software
1.0.6 or higher
Description
Bed-Buzz is the most beautiful, useful talking alarm clock available on the BlackBerry® PlayBook™. The paid version has over 50 great reviews and now you can try it for free! This is not time limited, this is a fully working free talking alarm clock. So what are you waiting for, download it now!
Features:
* Greets you in the morning with your name.
* Tells you the current time and date.
* Reads you today's weather forecast for your current location
* Large snooze button for sleepy fingers
* Multiple theme options
* High Contrast Mode Option (large green text on a black screen).
* Adjustable volume and snooze length
* Tap the weather icon at any time to read today's weather forecast
* Easy to set multiple alarms
* Advanced alarm settings: enabled / disable for specific days of the week
* Gets your location using GPS, or your zip/non-US postal code
* Alarm sounds even when app is in standby
* Temperature reads in Fahrenheit or Celsius
* Has Keep-Alive Option
The paid version has all these great features plus:

* Choose from 3 different voices, US Male, US Female, and UK Female
* Add an additional message for your greeting, like "You are awesome!!"
* Plays your favorite mp3 from your song collection (also includes choice of 6 beautiful preinstalled tracks to wake up to)
* Add your own background photo
If you have any comments or questions regarding feature requests or problems, please email us at support@comantis.com . We will get back to you usually within 1 business day. Feedback is always welcome.