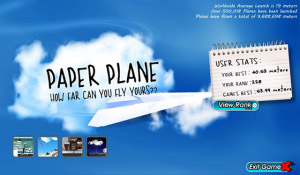 Tag:
PaperPlane
playbook app
Overview :
free PaperPlane v1.0.1 for playbook apps



Description
We are proud to present PaperPlane for the BlackBerry® PlayBook™.
How far can you fly your plane? Use your finger to swipe the plane, trying to avoid the obstacles as you try to see how far you can fly your plane over 4 graphically stunning backdrops.
Compete against other users by submitting your score and checking the online leaderboard (requires internet connection).
As well as seeing how far you can throw the plane, you can also see the full stats of the game, from total thrown distance, total amount of planes thrown and the average launch distance people are getting.

Features:
High quality graphics
Online LeaderBoard
Realtime global stats
with over 500,000 throws and 9.6million meters thrown as of mid july.
Highlighted reviews:
"why? why did you have to make this so addictive?"
"fun, addicting, online leaderboard, worth 99cents!!"
"Love how addicting this game is"
"whoever wrote this game owes me a few night's sleep"