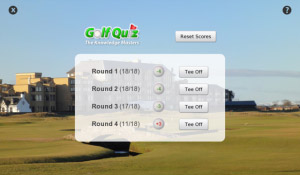 Tag:
Golf
Quiz
Overview :
Golf Quiz v1.2.0
Required Device Software: 1.0.0 or higher
Description:
Is your golf knowledge above or below Par? Completing a series of questions set out similar to a professional tournament with four individual rounds you can put your knowledge to the test. Be careful, however, as to make the cut for Round 3 you must be level par or better from the first two rounds.
The quiz comes complete with a series of different photograph backgrounds from St Andrews, Scotland and the interface is designed with simplicity in mind.
Scores can be reset if you wish to start from the beginning or let someone else take a shot.
Each future update to the quiz will introduce a wider variety of questions of which 18 are selected at random, alongside other new features.