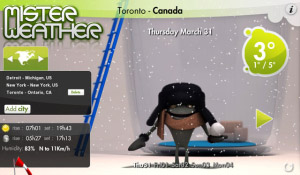 Tag:
Mr Weather
playbook app
Overview :
Mr Weather v1.0.3 for playbook apps
Required Device Software: 1.0.0 or higher
Details:
Mr Weather provides the average temperature of day, and current weather conditions.
Mr Weather is your new favourite weather forecast service !
Your weather buddy provides visual information for weather forecast, it's easy to use and it's fast.
Today, do I need a scarf ?
Will it fog or will it snow ?
Is it going to rain or should I wear sunglasses ?
… Mr Weather is here to tell !
This little frog is always listening to the weather, follow her advice and don't get cold !
Feedback appreciated: improve@brgrmedia.com