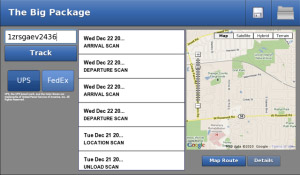 Tag:
Big
Package
Overview :
The Big Package v1.0.11 for blackberry playbook apps free download
Required Device Software: 1.0.0 or higher
Details:
**A bug in FedEx tracking was fixed in version 1.0.2 please update the app to get the fix, USPS trackig was also added**
The Big Package, is the essential package tracking application for your BlackBerry® PlayBook™. Do you obsess over up to the minute details on the new gadget you just ordered online? The Big Package can keep you up to date at all times straight from your PlayBook™. The Big Package will track all of your UPS, FedEx and USPS packages in the same place. No need to go to each vendor website and type in the tracking number every time you want to see the latest update. Name, save and manage your packages straight from your device with The Big Package and satisfy your OCD tendencies faster than ever.
Don't just read a plain text description of your package, follow your package's movements visually with the built in map support. See each location your package stops on its journey from the warehouse to your front door and even route its entire trip right within the app.