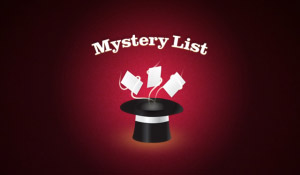 Tag:
PlayBook
Applications
Mystery
Overview :
free Mystery List v1.0.0 for playbook Applications
Required Device Software: 1.0.0 or higher
Description: Can't decide what to wear? Where to go? What to eat? What to do next? Mystery List alleviates the stress of making decisions by randomly choosing for you.
Choose from pre-loaded lists, or simply create your own, then start tapping to reveal your decisions. Just shake your BlackBerry® PlayBook™ to reset and start again.
CREATE LISTS OF:
• Things to eat
• Chores to do
• Baby names
• Outfits to wear
• Things to buy
• Places to visit