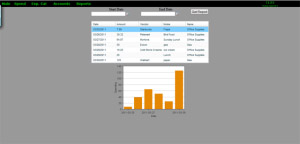 Tag:
Track
Cash
playbook app
Overview :
free Cash Track v3.0 for playbook apps

Required Device Software: 1.0.0 or higher
Details:
Cash Track is a free app that used to track your daily expenses right from your mobile device.
It enables you to use multiple accounts(bank, cash, barter, credit cards), you can customize your own expense categories as well.
Cash Track allows you to run reports that show you how much you have been spending daily, and even has charts and graphs.
Cash Track has a "Daily Spending Widget" that keeps you in the know of where your current daily spending is.
Know where your money is going, get Cash Track Today!
Look for further improvements and updates to Cash Track in April. This is an outstanding application.
Many Features additional features coming soon,try the app and tell us what you would like to see it do!