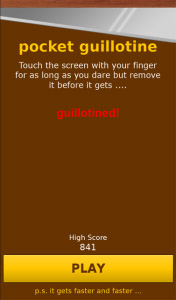 Tag:
Pocket
Guillotine
Overview :
Required Device Software: 1.0.0 or higher
Details:
Can you escape the guillotine? Fingers will roll? Test your reactions against the sharpest blade! The blade speeds up and you get points for how close to the blade you get before chickening out. How long can you stay ahead of the blade?
The guillotine is a device used for cutting fingers of those who stray to near. It consists of a tall upright frame with a suspended blade, which is raised with a rope and then allowed to drop chasing any fingers touching the screen. Pocket guillotine was widely use in France during the French Revolution, when it got its terrifying name. Pocket Guillotine all but died out. Now it has been resurrected to your device. Have fun and don't loose too many fingers!
Tags: cut, cutting, slice, blood, sever, hand, finger, fingers