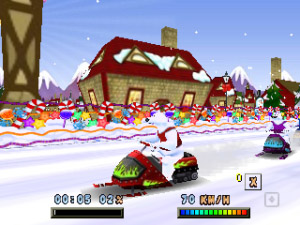 Tag:
3D
Winter
Fantasy
9930 game
Overview :
3D Winter Game Fantasy v1.2.0 games for blackberry is carefully selected by BlackberryRC.com, Hope you will like it.
Required Device Software:
5.0.0 or higher
Model:
BlackBerry 8530,BlackBerry 9350,BlackBerry 9360,BlackBerry 9520,BlackBerry 9550,BlackBerry 9650,BlackBerry 9670,BlackBerry 9810,BlackBerry 9850,BlackBerry 9860,BlackBerry 9900,BlackBerry 9930


Description:
Winter Game Fantasy is a cartoon style 3D action game pack featuring three independent sports games - Penguin Ski, Polar Bear Sled and Orca Stunt. Each game features a personated cartoon animal as the athlete. The games are created in a vivid, fancy and fun-filled cartoon art style.
* Orca Stunt - a fun-filled time-trial and skill challenging game with an adorable Orca showing off its amazing underwater stunt when trying to collect treasures within the shortest time to get the highest score.
* Penguin Ski - a chubby penguin is the skier and racing rules is inspired by the alpine downhill ski.
* Polar Bear Sled - a fantasy style snowmobile racing game featuring polar bears as the racers.
IMPORTANT NOTES:
* This application requires OpenGL ES for 3D graphics. It can run on BlackBerry® devices with OpenGL support, such as (as of May 2010) BlackBerry® Curve™ 8530, Bold™ 9650, Storm™ 9520/9550.
* You can use one of the following control methods to play the game: trackball, trackpad, touch-screen, QWERTY keypad. Notice that some keys (H,K,U,J,N) on QWERTY keypad have been virtually mapped to directional navigation keys.