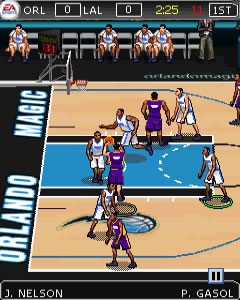 Tag:
9000 games
bold games
NBA Live
Overview :
NBA Live 2010 for 9000 bold games
Model:
Blackberry 90XX Bold (Onyx) Series (480*320) Devices Models: 9000, 9020(Onyx)
Description:
EA SPORT'S BEST-SELLING BASKETBALL FRANCHISE IS BACK WITH ANOTHER SLAM DUNK! NBA LIVE 10 delivers the best, most realistic 5 on 5 action available. Take it to the rack as Dwight Howard and other NBA favorites with full rosters from all 30 licensed teams. Run the floor in Exhibition Mode for a quick fix, or play through the all new 82-game Season Mode. TAKE YOUR TEAM TO THE FINALS!