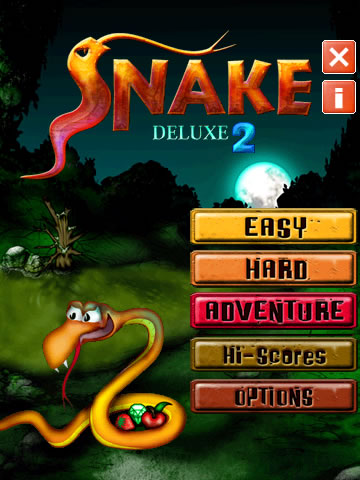 Tag:
Snake
Deluxe
Overview :
Snake Deluxe 2 for blackberry storm,torch games
Model:
Blackberry 95XX Storm Series (360*480):9500, 9510, 9520, 9530, 9550(Storm2), 9800(Torch)
Description:
Snake Deluxe 2 is based on the classic snake game. Eat fruit by controlling the snake's route.
Based on the classic game we all loved. The game objective is almost the same. Try to eat fruits by controlling the snake's route. There are 32 different Rounds to complete, 4 different words and 4 different Bosses to kill.
FEATURES:
* Specially designed for full screen gameplay. (Horizontal and vertical)
* High resolution graphics for High resolution phones!
* Amazing cartoon graphics
* 32 Different levels.
* 4 Different worlds.
* 4 Different Bosses.
* Map to explore.
* Adventure mode with a story to finish!
* Open gameplay.
* Export Hi-Scores to internet
* Speed control
There are some obstacles in every level, so be careful not to crash on them. There are three modes of play. Easy, Hard and Adventure. With the Adventure mode you can complete the levels, unlock the map and complete the story.