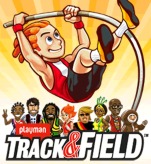 Tag:
Field
Playman
90xx games
Track
Overview :
Playman Track And Field 90xx games download

Model:
Blackberry 90XX Bold (Onyx) Series (480*320) Devices Models: 9000, 9020(Onyx)
Description:
Take on the world of sports in this ultimate race for gold! Playman Track & Field arrives to your mobile screen jam-packed with an un-beatable combination of track and field challenges, tournaments and 12 unique characters.
It's all wrapped up in an exciting package of breathtaking graphics, marvelous sounds, perfectly tuned game-play and awesome animations. Guide Playman through three game modes; Challenge, Survival and Multiplayer.
Pit yourself head to head against superstar athletes in Challenge mode. Beat the Amateur Challenge to unlock Playman's Pro Challenge and finally take Playman to the Arctic Circle for a showdown in the mysterious Survival mode. Play against your friends or computer opponents in Multiplayer Tournament or Single Event games in the world famous Playman style.
Upload your high-scores online and take on international Playmen and women to see who's the best of the best. Playman Track & Field - Mobile sports revolutionized!
Five track and field events 100m Dash, Long Jump, 110m Hurdles, Pole Vault and Javelin
Upload your scores online. Can you beat the best of the best?. Compete against international sports superstars or up to 6 of your friends.
Three awesome and unique game modes; Challenge, Survival and Multiplayer. Play as Playman or his sister Blaise or choose from 12 other unique characters!. State-of-the-Art graphics and character animations.