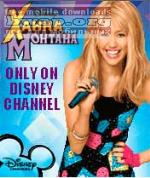 Tag:
Secret
9800 games
Hannah
Montana
Overview :
Hannah Montana Secret Star v1.0.22 for 95xx,98xx games
Model:
Blackberry 95XX Storm Series (360*480):9500, 9510, 9520, 9530, 9550(Storm2), 9570(Storm3), 9800(Torch), 9810(Torch2)
Description:
Ordinary teen or Pop Star? You choose the right moves for Miley/ Hannah in Hannah Montana Secret Star!
Miley / Hannah must outsmart aspiring pop star Mikayla, who has just burst onto the scene and is getting a little too much attention from Hannah's fans and Miley's friends .
Through a series of quick minigames, Hannah/ Miley aims to win back friends and fans, and manage foes, all while keeping her double life a secret.
This immersive simulation adventure features characters from the Hannah Montana hit TV show and tests the player's ability to navigate the story while striking the perfect balance between celebrity and normal teen life activities include academics, social activities, music, concert performances, fashion and stealth games, enhanced by cool customization features that tie into an entertaining story!
12 minigames and 3 concert challenges. Fans of the show will love the many familiar locations in the game such as the Stewart household, school, beach, park, backstage, etc.