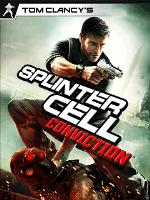 Tag:
9800 games
Conviction
Overview :
Tom Clancy's Splinter Cell: Conviction 9800 games
Model:
Blackberry 95XX Storm Series (360*480): 9500, 9510, 9520, 9530, 9550(Storm2), 9800
Description:
Play as Sam Fisher, a highly skilled special forces operative and fight a corrupted secret agency to get your daughter back.
Follow a trail of intrigue that leads from Malta all the way to the White House! Run, jump, fight, and shoot using a handgun, shotgun, AK47 or bazooka.
Hack into computer systems and maintain stealth by improvising with nearby objects or even by blending into a crowd. You are now a renegade spy agent; you don't follow any orders except for your own rules of engagement! Your morals, your game!
Features:
* 13 levels set in 8 different locations, from Malta to the White House
* Intuitive and simple controls to execute any action
* Improvise using objects around you: Hide behind costumes, swing on chandeliers and more
* Run, jump, shoot & even use your enemies as human shields
* Perform amazing cinematic actions thanks to quick-time events
* For the first time ever in a Splinter Cell mobile game, enjoy 2 mini-games