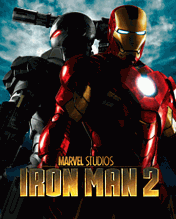 Tag:
Ironman 2
Overview :
free Ironman 2 for blackberry games download
Model:
Blackberry 8350i (320*240) Related Devices Model: 8500, 8520/Blackberry 83XX Series (320*240) Curve Devices Models: 8300, 8310, 8320, 8330 / Blackberry 87XX Series (320*240) Devices Models: 8700c, 8700r, 8700f, 8700g, 8703e, 8707, 8707g, 8707v .etc /Blackberry 88XX Series (320*240) Devices Models: 8800, 8820, 8830 .etc
Description:
Ironman 2 : Official Movie Mobile game for Blackberry 320x240.
Official Mobile Game of the movie. Play as Iron-man and War Machine (Depends on Stage).
Game is not as detailed as images below due to being stepped down a bit for curve but still a fun game.