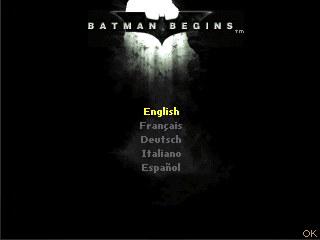 Tag:
Batman
Begins
Overview :
free Batman Begins games for blackberry
Model:
Blackberry 8350i (320*240) Related Devices Model: 8500, 8520/Blackberry 83XX Series (320*240) Curve Devices Models: 8300, 8310, 8320, 8330 / Blackberry 87XX Series (320*240) Devices Models: 8700c, 8700r, 8700f, 8700g, 8703e, 8707, 8707g, 8707v .etc /Blackberry 88XX Series (320*240) Devices Models: 8800, 8820, 8830 .etc
Description:
The game has a unique system involving intimidation. Whereas most superhero games require straightforward fighting, Batman Begins features the utilization of the environment to frighten opponents. Certain gadgets designed to frighten enemies during combat are provided, such as smoke grenades, flash bang grenades, and an 'HF Transponder', which summons bats to gather around and incapacitate enemies with fear. On top of this is traditional stealth gameplay reminiscent of the Splinter Cell series (this probably due to the fact that the game was written by Splinter Cell creator JT Petty), such as sneaking and taking out enemies from behind. There are many ways to incapacitate enemies with stealth, using various combat and martial arts techniques.