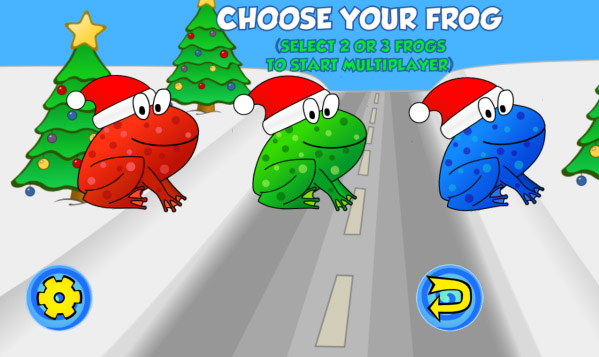 Tag:
3D
Christmas Race
Overview :
Frogs are celebrating Christmas and are ready to pick up their gifts and sweets,
but there are multiple lanes of fast moving traffic between them and their Christmas presents!
Simplest controls, yet very addictive. Just one button. Either jump or not. You have fraction of second to decide,
and there's no going back!
Fast-paced. Intense. Simple. Addictive. Enjoyable. Kids and adults alike love it.
Choose to compete against the world in survival mode to try and win the crown or enjoy an exciting time with your friends in a multi-player race with up to 3 players using the same device!
Multi-player is absolutely guaranteed to make your day. And 3 friends is twice as much fun as two =)
While online gaming replaces live social interaction, Frog Race encourages it.
Become closer with your friends, socialize! Play Frog Race together =)
This game is also great for kids. Kids are enjoying this game from the age of 1!
Happy holidays!
Supported Devices:
BlackBerry Classic
BlackBerry Leap
BlackBerry Passport
BlackBerry Passport Silver Edition
BlackBerry Q10
BlackBerry Q5
BlackBerry Z10
BlackBerry Z3
BlackBerry Z30
PlayBook
Porsche Design P9982
Porsche Design P9983