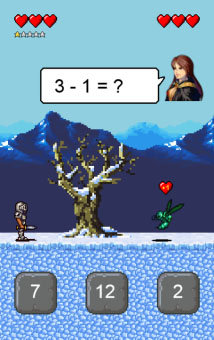 Tag:
blackberry world games
Sir Mathew
Overview :
Sir Mathew 1.0.89 for BlackBerry world games
Original mixture of mathematics and simple role-playing. It's suitable for kids from 6 to 10 years for learning basic skills of math.
Lead your hero throught the horde of monster, kill them by right answers, save the princess and learn the basic skills of math.
The game collects number of right and wrong answers and according to the success increases or decreases player level. According the level, game is adjusts difficulty of examples. Basic level starting with addition, continues with subtraction, comparing numbers, multiplications and ending with division. Every child can enjoy the game according to its knowledge and over time attract new ones.
Some monster holds a bonus, kill the monster and use the bonus in the next turn.
- Heart adds one life to your hero.
- Shield blocks next attack of the monster.
- Sword takes 2 lifes of the monster in the next attack of the hero.
* Experience *
Basic skills in mathematics like addition, subtraction, multiply, divide and number comparisons.
* Future plan *
- new types of examples (fractions, multiple operators like 12 - 6 + 8, ...)
- time attack mode/level
- new environments (swamp, castle)
- monsters update (new monsters, animations, ...)
Supported Blackberry Cellphone Models Devices:
BlackBerry Classic
BlackBerry Leap
BlackBerry Passport
BlackBerry Passport Silver Edition
BlackBerry Q10
BlackBerry Q5
BlackBerry Z10
BlackBerry Z3
BlackBerry Z30
PlayBook
Porsche Design P9982
Porsche Design P9983