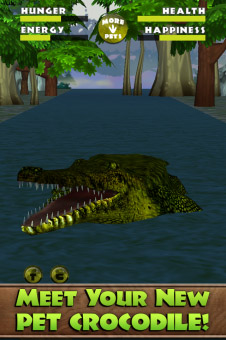 Tag:
Virtual
Overview :
Virtual Pet Crocodile 1.0.0.1 for blackberry 10 games
Supported Devices:
BlackBerry Q10
BlackBerry Q5
BlackBerry Z10
BlackBerry Z3
BlackBerry Z30
Porsche Design P9982
Meet your scaly new best friend, the Virtual Pet Crocodile! Play fun games, dress up in silly costumes, and hunt down food to keep your crocodile happy and healthy!
Download the Virtual Pet Crocodile today while it's 50% OFF for a very limited time!
Game Features
+ INTERACTIVE 3D CROCODILE - This prehistoric reptile is at your command with powerful jaws, swift swimming, and more!
+ DOZENS OF ACTIVITIES - Hunt down fish for dinner, play fun games, and laugh at hilarious swamp jokes!
+ CARE FOR YOUR PET - Look after your pet's well-being by managing four different stats: Hunger, Energy, Health, and Happiness!
+ CUSTOMIZE YOUR CROC - Pick your favorite colors, add a funky hat, and even name your new pet!
+ 3D SWAMP ENVIRONMENT - Explore your crocodile's gorgeous 3D home in the Florida Everglades!
+ HD GRAPHICS - Stunning High Definition graphics look so real you'll fall in love with your new croc at first sight!
Download the Virtual Pet Crocodile and experience what everyone is calling the most exciting and realistic pet simulator ever made!
Be sure to check out our other awesome Virtual Pets! Swim through the sea with the Virtual Pet Orca or raid villages for gold with the Virtual Pet Dragon!
Like us on Facebook!
facebook.com/glutenfreegames
Follow us on Twitter!
twitter.com/glutenfreegames