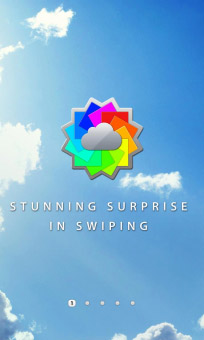 Tag:
MMMOOO
Wallpapers S
Overview :
Wallpapers Sky v2.4.3.200 - HD Wallpapers + For Flickr Originals + Users Upload

Version: 2.4.3.200
File Size: 7 MB
Required Device Software Operating System: 5.0.0 or higher
Tablet: 10.0.0 or higher
BB10 Smartphone: 10.0.0 or higher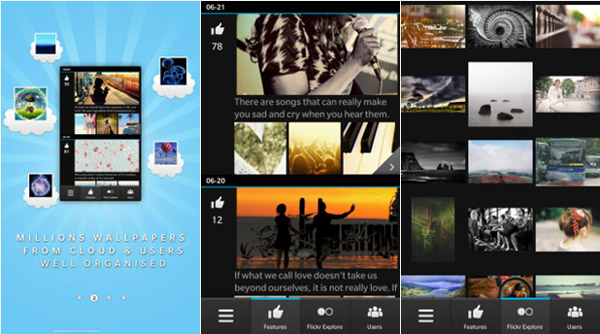 Description:
Refresh your homescreen and background with dedicated HD wallpapers, lots of inspirations in every touch of your phone! And now with user's upload and collection, you can upload wallpapers you like and share it all over the world, or just see the other users' upload/collection, such as BlackBerry's VP Alec Saunders...
Updates in 2.4.3:
★1. A special collection from Alec Saunder's Flickr!
P.S. Alec is the VP of BlackBerry Developer Relationship Department and a professional photographer as I know! So just enter Wallpaper Sky, and click the 'Users' tab, you can find the collection!
2. Daily wallpaper has been optimized, there will no blank any more.
3. Small bugs are fixed!
Features:
1. Flickr origins, you can get the most awesome wallpapers which are selected by flickr
2. Wallpaper upload, if you make a very beautiful wallpaper and would like to share
3. Users' collection, high quality wallpapers from famous person's flickr and collected by our editor
4. Share Hub Invoke, in photo gallery, you can share the photo right there via share hub to Wallpapers Sky
5. Clear sorts: newest, hottest, recommendation, content categories, shuffle
★★★Please note: If you do not like the thumbnail saved in your phone, you can select clear cache: plz pull downs from your phone screen's top border, you can see a menu, then just go settings and select "clear cache"!
PS:
more BLACKBERRY 10 WALLPAPERS download: http://www.blackberryrc.com/Blackberry-10-Wallpapers/