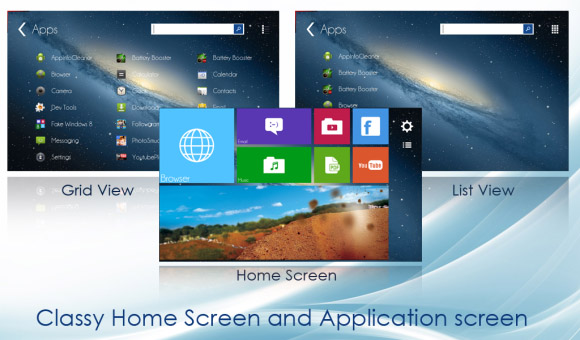 Tag:
Homescreen W
Overview :
Homescreen Widget 1.0.5.11 for BB10 & playbook apps

Version: 1.0.5.11
File Size: 2 MB
Required Device Software Tablet: 2.0.0 or higher
BB10 Smartphone: 10.0.0.0 or higher



Description:
Bored of your old BlackBerry User Interface?
How about a new look?
Introducing the new Homescreen Launcher. An awesome app that provides you with an experience you cant resist.
Trick your friends into thinking you have the new device. Remember this is not a launcher, but actually it can launch apps. Get newest Metro UI style on your phone
Features:
- You can add different size tiles;
- You can add a variety of color tile;
- You can save and restore the theme;
- You can edit the start screen layout;
- You can set the current background style;
- You can switch the application list style
- You can set the new style lock screen and status bar;
-You can select different colors of theme colors;
-You can add special features tiles,like time ,pictures