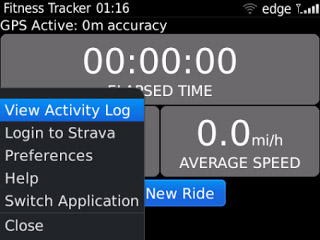 Tag:
Fitness Trac
Magra System
Overview :
Fitness Tracker v1.7 By Magra Systems
File Size: 43 kb
model:
Blackberry Pearl 3G Series (360*400) Devices Models: 9100, 9105, 9670(Style)

Description:
Fitness Tracker lets you use your BlackBerry® to log your sporting activities, giving you real-time updates of your distance and speed as you go, and displays maps of your completed routes. The data can be easily uploaded to Strava (strava.com) for detailed analysis and sharing with your network. It's a lightweight app, so you can listen to your music too.
Fitness Tracker uses the GPS in your BlackBerry® to track your position based on satellite signals and give you real-time updates on how far you travel, and your average speed. When used outdoors with a clear view of the sky, it's pretty accurate, good enough to tell which side of the street you are on for example. GPS also works with restricted views of the sky, like near tall buildings, or dense forests, but occasionally the accuracy will be degraded. GPS rarely works indoors, so don't try to use it in a gym.
Fitness Tracker stores your activity data on your BlackBerry® so you have a detailed diary of your activities. If you do different sports, each activity can be tagged with a type such as run, ride, walk, hike, ski, skate, kiteboard, windsurf, snowboard and more. You can view interactive maps of an activity, showing the start point, route and end point. Fitness Tracker lets you customize how your progress is displayed, using miles or kilometers and showing speed or pace.
For Strava users, Fitness Tracker seamlessly uploads your activity data so you can explore it further on strava.com. All you need to do is login once, after that your completed activities will be uploaded wirelessly, when you finish. Uploaded activities show a Strava icon on the log screen. The type of activity is synced with Strava so it will properly track your runs, rides and other stuff. If you're not a member of Strava, sign up! It's free and provides additional ways to analyze and share your activities. You can see Google maps of your routes, and Strava also keeps a training log giving totals, and averages. You can see time splits and create nice graphs of pace or elevation throughout your activity. You can compare your times on certain segments (routes) to other Strava users. Strava makes it easy to share your activities with your social network, whether it is to tip a friend off on a nice ride, or compete to get the best time on a segment.
Fitness tracker is designed to be easy to use. The main screen shows you the info you're going to see while you do your activity. All you need to do is press the start button and go. You can check your time, distance and speed/pace as you go, or just forget about it until you're done. When done, press the finish button and that's it. To get best results, follow these tips:
At the top of the main screen is the GPS status bar. When you first open Fitness Tracker, it says "searching for location". Sometimes it takes the GPS hardware a few minutes to get the first location, so open Fitness Tracker a few minutes before you start your activity and it should be ready when you are. If you forget to do this you can still start, you just might miss recording the first few minutes of your activity. You should get great results when the GPS says it is accurate to less than 5 meters (15 ft) or so.
Be patient with the GPS, sometimes it takes a while to start, especially if you have traveled far since the last time you used it
For Strava users, on the main screen open the menu and select "Login to Strava". You only need to do this once, after that your activities are uploaded automatically
On the main screen, open the menu and select "Preferences". You can set the type of activity, choose miles or kilometers, speed or pace
If you have any trouble getting started or have suggestions please email support@magrasystems.com and give us a chance to help you
Fitness Tracker is an independently developed app designed to work with the Strava website. The Strava webiste is owned and operated by Strava, Inc.