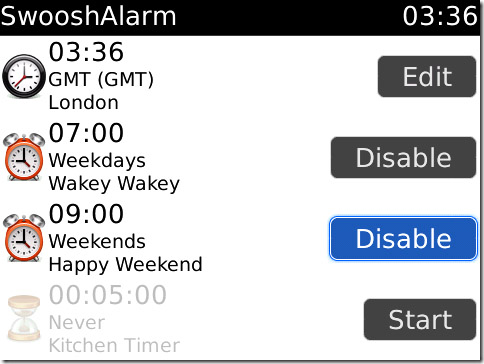 Tag:
9700 apps
SwooshAlarm
Overview :
Model:
Blackberry 72XX Series (240*160) Devices Models: 7200, 7210, 7230, 7250, 7270, 7280, 7290, 7510, 7520, 6510/Blackberry 71XX Series (240*260) Devices Models: 7100, 7110t, 7105t, 7100r, 7100v, 7100g, 7100x, 7100i, 7130e, 7130c, 7130g, 7130v/Blackberry 81XX Series (240*260) Pearl Devices Models: 8100, 8110, 8120, 8130/Blackberry 82XX Series (240x320) Pearl Flip Devices Models: 8200, 8220, 8230/Blackberry 8350i (320*240) Related Devices Model: 8500, 8520/Blackberry 83XX Series (320*240) Curve Devices Models: 8300, 8310, 8320, 8330 / Blackberry 87XX Series (320*240) Devices Models: 8700c, 8700r, 8700f, 8700g, 8703e, 8707, 8707g, 8707v .etc /Blackberry 88XX Series (320*240) Devices Models: 8800, 8820, 8830 .etc /Blackberry 89XX Curve Series (480*360): 8900(Javelin), 8910(Atlas)/Blackberry 90XX Bold (Onyx) Series (480*320) Devices Models: 9000, 9020(Onyx)/Blackberry 96XX Tour (Niagara) Series (480*360):9600, 9630, 9650(Tour2), 9700(Bold) /Blackberry 95XX Storm Series (360*480):9500, 9510, 9520, 9530, 9550(Storm2)
Description:
You can have as many alarms as you want, One thing for me is that I work a shift pattern so the first alarm is only ever turned on when I am on a early shift , no need to keep changing the time, I remember once changing the time and by mistake putting it to pm! I was NOT impressed that day! You can set a snooze interval from 1 to 30 min when setting the alarm, super for those who want short snoozes, I find if you have too long a snooze you have a harder time getting up! You can customise what is displayed when the alarm goes off, this is good for reminders.
Its Location alarm is running in beta at the moment, in the uk it accepts the local areas using town addresses or postcodes. On a test run it did not do anything but it does have a 5 mile radius as the minimum on entering and exiting the areas. I will run another test tomorrow with blackberry maps running and gps to see if it works yet. But lets be realistic when would you really need it? do you have the answer? let me know in the comments then please!
Downsides to the application is you have to use the standard BlackBerry tones for alarms, this however is only a small thing which is not a big deal. I found the snooze button when selected was not snoozing, it just turned itself off.So after more extensive testing i concluded that in fact… the snooze button does not snooze! This is in fact due to a bug which is being looked into.
Main Features:
¦FREE TRIAL
¦Daily Alarms
¦Timer Alarms
¦World Clocks
¦BETA – Location Alarms
¦Daily alarms are on active on the days you select
¦Timers can repeat a fixed number of times
¦Timers can repeat until a particular time
¦Assign notes to each of your alarms
¦Vibrate and tone support
¦
¦COMING SOON – MP3 SUPPORT
Overall I feel it is a useful application which is going to be used continuously. If you're like me (and many others I could imagine) where time is valuable, then Swoosh could suit you well. Swoosh Alarm is only $4.99 from the PocketBerry Store. If you're still uncertain about the app, you can take it for a test drive with a limited time free trial of it.