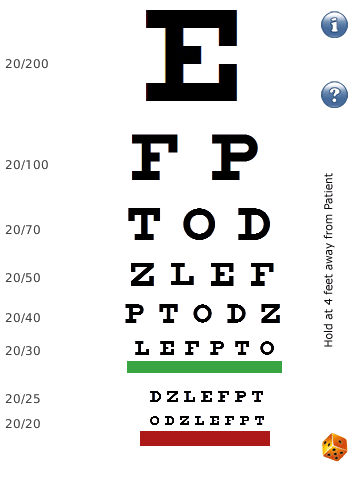 Tag:
Eye Test
Overview :
Model:
Blackberry 81XX Series (240*260) Pearl Devices Models: 8100, 8110, 8120, 8130/Blackberry 82XX Series (240x320) Pearl Flip Devices Models: 8200, 8220, 8230/Blackberry 8350i (320*240) Related Devices Model: 8500, 8520, 8530/Blackberry 83XX Series (320*240) Curve Devices Models: 8300, 8310, 8320, 8330 / Blackberry 87XX Series (320*240) Devices Models: 8700c, 8700r, 8700f, 8700g, 8703e, 8707, 8707g, 8707v .etc /Blackberry 88XX Series (320*240) Devices Models: 8800, 8820, 8830 .etc /Blackberry 89XX Curve Series (480*360): 8900(Javelin), 8910(Atlas)/Blackberry 90XX Bold (Onyx) Series (480*320) Devices Models: 9000, 9020(Onyx)/Blackberry 96XX Tour (Niagara) Series (480*360):9600, 9630, 9650(Tour2), 9700(Bold2) /Blackberry Pearl 3G Series (360*400) Devices Models: 9100, 9105
Description:
* Eye Test is a unique application that produces a number of randomized eye charts to offer a rough but useful screen of visual acuity.
* Eye care professionals around the world use Snellen Eye Charts to measure visual acuity.
* However, patients often memorize the classic Snellen chart, leading to less accurate vision measurements.
* So, with this Eye test application, get the rough estimate of the acuity level.
* Though this unique, pocket sized randomized eye chart should not be used as a primary visual acuity measuring tool, it can provide a handy rough vision screen when a chart is not available.
* FEATURES:
* * Many number of random eye charts.
* * Randomize the entire chart or any line.
* * Very useful when outside the clinic.
* * Snellen optotype format.
* INSTRUCTIONS:
* To change the letters:
* Press the icon that resembles a die to randomize the chart.
* Press any line on the chart to randomize only that line.
* To take the test:
* * Hold the chart at 4 feet from the patient.
* * Have the patient cover one eye.
* * Have the patient read aloud the letters of each row, beginning from the top.
* * When the patient can no longer make out letters, that is the visual acuity in that eye.
* * Repeat the above steps with the other eye.
* Note:
* Please keep in mind this is a rough estimate of visual acuity & it is not a definite measure of a patient's visual acuity.
* ASSISTANCE:
* * For any kind of information, feedback or suggestion, please contact us.
* * We would respond back to your mail within quick time.