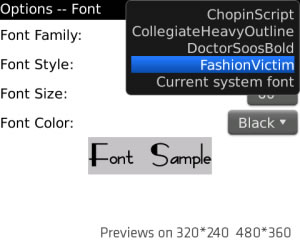 Tag:
tour apps
Overview :
Description:
Put the important note or to-do on your phone's home screen. Never forget what to do next. The mature tech is from our rocking app: Write Sth On Wallpaper (Search 'write sth' + 'MMMOOO' )!
PROMOTIONS:
FREE in a limited time by writing an email to: cs@mmmooo.com
Features:
1. Home screen display.
2. Quickly to add and manage notes.
3. Multi memo styles for optional.
4. Wallpaper optional
5. Memo position can be customized in any place
6. Font size, type and color customizable
Tips:
1. Plz choose a common style theme which can support customized wallpaper
2. In the operation in 'Memooo-option' section, each step will take 1-2 seconds to generate wallpaper, so be patience
We welcome feedback comments. If you find a bug, kindly email us, we can provide revision asap, and a bonus theme as well. Be so kind don't leave a malicious comment.
Model:
Blackberry 81XX Series (240*260) Pearl Devices Models: 8100, 8110, 8120, 8130/Blackberry 82XX Series (240*320) Pearl Flip Devices Models: 8200, 8220, 8230/Blackberry 8350i (320*240) Related Devices Model: 8500, 8520, 8530, 9300(Kepler), 9330/Blackberry 83XX Series (320*240) Curve Devices Models: 8300, 8310, 8320, 8330 / Blackberry 87XX Series (320*240) Devices Models: 8700c, 8700r, 8700f, 8700g, 8703e, 8707, 8707g, 8707v .etc /Blackberry 88XX Series (320*240) Devices Models: 8800, 8820, 8830 .etc /Blackberry 89XX Curve Series (480*360): 8900(Javelin), 8910(Atlas), 8930, 8950, 8980/Blackberry 90XX Bold (Onyx) Series (480*320) Devices Models: 9000, 9020(Onyx)/Blackberry 96XX Tour (Niagara) Series (480*360):9600, 9630, 9650(Tour2), 9700(Bold2), 9780, Dakota, Apollo /Blackberry 95XX Storm Series (360*480):9500, 9510, 9520, 9530, 9550(Storm2), 9570(Storm3), 9800(Torch), Torch2/Blackberry Pearl 3G Series (360*400) Devices Models: 9100, 9105, 9670(Style)