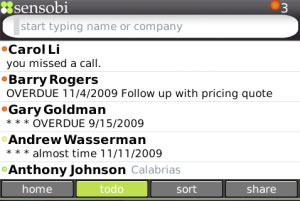 Tag:
Contacts
Pro
Sensobi
Overview :
free Sensobi Contacts Pro apps for blackberry

The Best Address Book for your BlackBerry®.
Sensobi helps business professionals stay on top of their important personal relationships right from their BlackBerry®. Download Sensobi and experience the contact manager app that is already in use by thousands of professionals in over 30 countries worldwide.
Automatically sort your contacts by how often you talk to them or the last time you spoke
Rank your contacts and set follow ups right in your calendar
Track your past communications for each contact
See who is falling off your radar
...All for less than the price of one business lunch (with a 7-day MONEY BACK GUARANTEE)
SEE WHAT OUR USERS THINK
Sensobi is the total package for personal and business contact management.
Sensobi is one of my favorites!!!
Do I need this app? Yes.
Best Contacts app for BB in my opinion
I have gotten addicted to it
Those guys at Sensobi are the geniuses!
PRESS
Preliminary response to its offering has been terrific - Boy Genius Report
The idea of a points system for contact is, dare I say, fun! - Crackberry.com
Sensobi es una mejor libreta de direcciones que te ayudará a hacerle seguimiento a tus contactos importantes. - ZonaBlackBerry
NEW!
Real-time notifications
Increased font size
Improved memory consumption
Cleaner app icon
Sensobi uses a network connection once a day for light-weight analytics; normal data usage costs apply.
Note: Sensobi currently only supports handsets up to 10,000 contacts. We currently do not support the BlackBerry® Storm™.
Model:
Blackberry 82XX Series (240*320) Pearl Flip Devices Models: 8200, 8220, 8230/Blackberry 8350i (320*240) Related Devices Model: 8500, 8520, 8530, 9300(Kepler), 9330, Apollo/Blackberry 83XX Series (320*240) Curve Devices Models: 8300, 8310, 8320, 8330 / Blackberry 87XX Series (320*240) Devices Models: 8700c, 8700r, 8700f, 8700g, 8703e, 8707, 8707g, 8707v .etc /Blackberry 88XX Series (320*240) Devices Models: 8800, 8820, 8830 .etc /Blackberry 89XX Curve Series (480*360): 8900(Javelin), 8910(Atlas), 8930, 8950, 8980/Blackberry 90XX Bold (Onyx) Series (480*320) Devices Models: 9000, 9020(Onyx)/Blackberry 96XX Tour (Niagara) Series (480*360):9600, 9630, 9650(Tour2), 9700(Bold2), 9780, Dakota /Blackberry 9800(Torch), Torch 2/Blackberry Pearl 3G Series (360*400) Devices Models: 9100, 9105, 9670(Style)