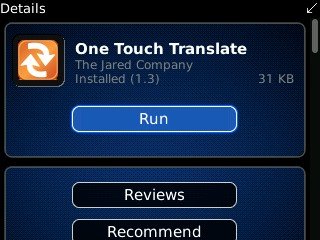 Tag:
One Touch
Translate
Overview :
free bb apps : One Touch Translate v1.3.0 apps for blackberry

The world has become a smaller place, and we receive and send emails in other languages. Getting the right translation, and getting it done quickly and simply is critical. With One Touch Translate from JaredCo you can translate any email you receive or send, into any language, with a minimum of clicks and next to no wait times.
You need a translation, you want it fast and simple, One Touch Translate delivers.
• One Touch Translate adds a menu item in your email folder so when you receive an email in another language you can get it translated quickly, and easily.
• One Touch Translate will translate any email you create into any other language you choose, all with a click. This is the fastest and easiest way to translate emails on your BlackBerry®.
• One Touch Translate knows the default language of your BlackBerry® and it will automatically translate into that language. You do have the option to change the language it will translate into.
• This is a small app that uses very little of your valuable memory space.
• Free to download. Simple to install. A breeze to use.

One Touch Translate is the only translation app you will ever need.
JaredCo Apps With Purpose: We Design Them. We Build Them. We Support Them.
** Free for a limited time***
Model:
Blackberry 82XX Series (240*320) Pearl Flip Devices Models: 8200, 8220, 8230/Blackberry 8350i (320*240) Related Devices Model: 8500, 8520, 8530, 9300(Kepler), 9330, Apollo/Blackberry 83XX Series (320*240) Curve Devices Models: 8300, 8310, 8320, 8330 / Blackberry 87XX Series (320*240) Devices Models: 8700c, 8700r, 8700f, 8700g, 8703e, 8707, 8707g, 8707v .etc /Blackberry 88XX Series (320*240) Devices Models: 8800, 8820, 8830 .etc /Blackberry 89XX Curve Series (480*360): 8900(Javelin), 8910(Atlas), 8930, 8950, 8980/Blackberry 90XX Bold (Onyx) Series (480*320) Devices Models: 9000, 9020(Onyx)/Blackberry 96XX Tour (Niagara) Series (480*360):9600, 9630, 9650(Tour2), 9700(Bold2), 9780, Dakota /Blackberry 95XX Storm Series (360*480):9500, 9510, 9520, 9530, 9550(Storm2), 9570(Storm3), 9800(Torch), Torch 2/Blackberry Pearl 3G Series (360*400) Devices Models: 9100, 9105, 9670(Style)