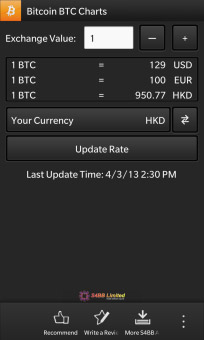 Tag:
s4bb
Bitcoin BTC
Overview :
Following up on the ever increasing popularity of Bitcoins, S4BB Limited has released Bitcoin BTC Charts for BlackBerry® 10, bringing you real-time Bitcoin exchange rates to your BlackBerry® 10 Smartphone. Thanks to this handy application you can now convert Bitcoins in your own currency, and vice versa.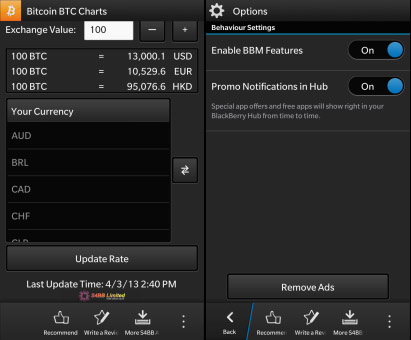 File Size: 11 MB
Required Device Software BB10 Smartphone: 10.0.0 or higher
Model: z10, q10

Description:
Exchange rates for Bitcoin BTC. Just enter the amount you wish to exchange between Bitcoin and any one of the exchangeable currencies. The amount will be automatically calculated according to the current exchange rates.
Bitcoin is the most popular electronic currency that is accepted by many merchant around the world as an alternative payment method. It works just like real money that could be spent, transferred and exchanged to/from many major currencies.
P.S. Update exchange rates by tapping the "Update Rate" button to make sure the rates are up to date.