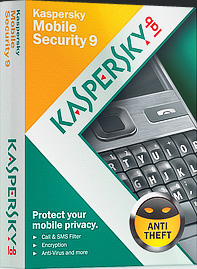 Tag:
KMS
Overview :
You make calls, send SMSs, browse the web and communicate via social networks every day. Your smartphone is your life. Kaspersky Mobile Security keeps your private life truly private. In addition to Windows Mobile and Symbian, Kaspersky Mobile Security is now also compatible with BlackBerry and Android OS devices.
• Secure contacts, photos and files from unauthorized access
You can store all your digital assets in encrypted folders and remotely block or wipe your smartphone if it's lost or stolen.
• Locate a lost or stolen smartphone
You can locate a lost or stolen smartphone using the inbuilt GPS Find function.
• Block unwanted calls or SMSs
You can filter out annoying calls and SMSs by assigning contacts to black lists and white lists.
• Privacy Protection - for your eyes only
You have exclusive control over which of your contacts and phone numbers you want to keep "private". Hide and unhide phonebook entries, SMSs and call logs at the touch of a button.
• Parental control
You can restrict your children's calls and SMSs (e.g. block premium rate numbers) and keep track of their whereabouts using GPS Find.
• Protect your smartphone from malware and network attacks
Kaspersky Mobile Security 9 provides all you need to protect your smartphone from harm, including real-time antimalware scans, automatic updates, blocking of dangerous network connections and much more.

Model:
Blackberry 8350i (320*240) Related Devices Model: 8500, 8520, 8530, 9300(Kepler), 9320, 9330, 9350, 9360, 9370/Blackberry 83XX Series (320*240) Curve Devices Models: 8300, 8310, 8320, 8330 / Blackberry 87XX Series (320*240) Devices Models: 8700c, 8700r, 8700f, 8700g, 8703e, 8707, 8707g, 8707v .etc /Blackberry 88XX Series (320*240) Devices Models: 8800, 8820, 8830 .etc /Blackberry 89XX Curve Series (480*360): 8900(Javelin), 8910(Atlas), 8930, 8950, 8980/Blackberry 90XX Bold (Onyx) Series (480*320) Devices Models: 9000, 9020(Onyx)/Blackberry 96XX Tour (Niagara) Series (480*360):9600, 9630, 9650(Tour2), 9700(Bold2), 9780, 9788, Dakota, Apollo /Blackberry 95XX Storm Series (360*480):9500, 9510, 9520, 9530, 9550(Storm2), 9570(Storm3), 9800(Torch), 9810/9850/9860(Torch2)/Blackberry Pearl 3G Series (360*400) Devices Models: 9100, 9105, 9670(Style)/Blackberry 99XX (OS 7.0) Series (640*480) Devices Models: 9900, 9930, 9981/Blackberry Playbook