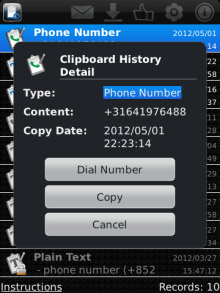 Tag:
Clipboard Hi
Overview :
Free Clipboard History v1.0.15 apps
File Size: 986 KB
Description:
Want to be able keep track of the content you copy or cut? With Clipboard History you can go back and retrieve content you have copied or cut before. This is compatible with your Messages, Browser, Email, BBM™, and other third party applications. You can access the clipboard history through the menu in any application by simply scrolling to and highlighting "Clipboard History".
Features:
- History of all content copied or cut.
- Recognizes many data formats: phone numbers, text, web URLs, etc.
- Easy to copy & paste content.
- Compatible with many apps.
- Accessible from all apps through the menu button.
- Tracked content can be deleted individually.
- Easy to use.
This is a BBM™ connected app. Let your friends know you are using this app through your status update!
If you like Clipboard History Pro please write a review. Thanks.