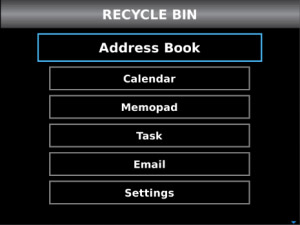 Tag:
9930 apps
Recycle Bin
Overview :
Recycle Bin v1.1.0 - Restore your Contacts Memos Calendar Tasks and Mails after deletion
OS 5.0,6.0,7.0
size: 176 KB
model: Pearl 9100 3G, Pearl 9105 3G, Curve 8520, Curve 8530, Curve 8900, Curve 8910, Curve 8980, Bold 9000, Curve 9300 3G, Curve 9330 3G, Tour 9630, Bold 9650, Style 9670, Bold 9700, Bold 9780, Bold 9788, Curve 9350, Curve 9360, Curve 9370, Storm 9500/9530, Storm2 9550/9520, Torch 9850/9860, Torch 9800, Curve 9380, Bold 9790, Torch 2 9810, Bold 9900/9930, 9981
Description:
The recycle Bin stores all your deleted E-mails, Contacts, Tasks, Memo and Events in separate tabs. You can easily find your deleted items and then restore them back.
Features:
1. Items included in Recycle Bin are: E-mails, Contacts, Tasks, Memo and Events
2. Stores your deleted items safe
3. Restore your items back with a single click
4. Permanently remove item from the recycle bin
5. Option to permanently remove individual or all
Note: Deleted Emails are restored in Drafts folder due to technical limitations. To find your Email go to the particular Email Account Folder and filter the Drafts from selecting - Filter - Drafts from menu options. Other items can be restored as original items.
If you like the bb app, Please share to your friends!