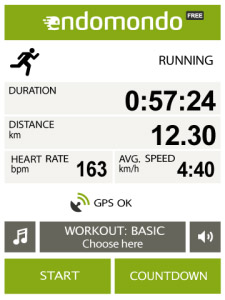 Tag:
Sports
Endomondo
storm apps
Tracker
Overview :
free Endomondo Sports Tracker v8.6.2 for blackberry os5.0 apps
OS 5.0
size:2.6 MB
Model: Pearl 9100 3G, Pearl 9105 3G, Curve 8520, Curve 8530, Curve 8900, Curve 8910, Curve 8980, Bold 9000, Curve 9300 3G, Curve 9330 3G, Tour 9630, Bold 9650, Bold 9700, Storm 9500/9530, Storm2 9550/9520

Description:
Use your mobile as a free personal coach and training partner. Using the built-in GPS, it tracks your running, cycling, hiking, kayaking, skiing - you name it! As a bonus, you get audio feedback while working out.
App. Features:
- Track any outdoor sport including duration, distance, speed and calories
- Get audio feedback for every mile or km while exercising
- Get live peptalks from friends - they write a short text on the web which is then read out loud to you seconds later
- Track your heart rate (see Endomondo.com for supported devices)
- Race against a friend's time and have the audio coach help you perform better
- Compete on a specific route nearby and race against the route champion
- Get instant feedback by tapping your (wired) headset's media button
- Enter workouts manually, e.g., weight lifting or a treadmill run
- View history of workouts and peptalks
- Set the app to pause automatically when you are not moving
- Study split times per km or mile
- See your route on a map
- See a list of friends and their latest workouts
- Use Facebook and/or your phone book to hook up with your friends on Endomondo
- Post workouts to Facebook
- See your friends' latest workouts in real-time
- Peptalk friends and comment on their workouts from the app
- Enable countdown (10, 20 or 40 sec)
- Get instant feedback by tapping your wired headset's media button
- Support for desktop manager media-sync playlists
- Invite BBM contacts (NEW in v8.6.0)
- Share workouts on BBM (NEW in v8.6.0)

With the accompanying free website, www.endomondo.com, you get further analyses, a wide range of social sharing functions (Facebook and Twitter) and the ability to compete against your friends and follow .
Time to free your endorphins!
Note: On phones with OS versions older than 5.0, the auto-pause feature may not be as accurate as expected. In that case, please go to Settings and try adjusting the auto-pause parameters - or disable the feature entirely. Thank you.
NOTE regarding VERIZON: Because of GPS issues, the application is currently not compatible with 8X30 phones running on Verizon.