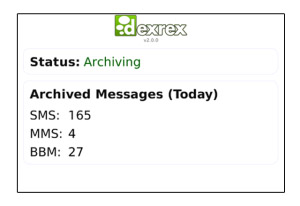 Tag:
9981 apps
9670 apps
Dexrex
Overview :
Dexrex Mobile v2.0.3 for os4.6-7.0 apps
OS 4.6,4.7,5.0,6.0,7.0
size:122 KB
Model: Pearl Flip 8220, Pearl Flip 8230, Pearl 9100 3G, Pearl 9105 3G, Curve 8520, Curve 8530, 8800, 8820, 8830, Curve 8900, Curve 8910, Curve 8980, Bold 9000, Curve 9300 3G, Curve 9330 3G, Tour 9630, Bold 9650, Style 9670, Bold 9700, Bold 9780, Bold 9788, Curve 9350, Curve 9360, Storm 9500/9530, Storm2 9550/9520, Torch 9850/9860, Torch 9800, Bold 9790, Torch 2 9810, Bold 9900/9930, 9981

Description:
Dexrex Mobile™ for BlackBerry® allows you to capture, save, and read your SMS, outgoing MMS, and BlackBerry Messenger from anywhere, just as you do your emails. Dexrex Mobile™ is an easily installed, simple to use archiving tool for capturing and storing all your mobile messages in your existing email account. Calls and messages get sent from your phone and are bundled into a conversation view that gets sent directly to any email inbox.
Dexrex Mobile™ Lite is available as a free service from dexrex.com, and offers SMS archiving only. Complete and Business packages are available and offer expanded features and archiving across multiple accounts. Visit www.dexrex.com to view pricing information and to complete the signup process.
This application requires an account to be setup at www.dexrex.com to complete the installation and signup process.