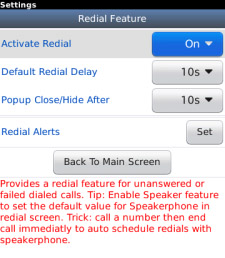 Tag:
Advanced
Calls
LED Control
Overview :
Advanced Calls and LED Control v7.5 (Vibrate Calls) for blackberry apps
OS 4.6, 4.7, 5.0, 6.0, 7.0
Model: Pearl Flip 8220, Pearl Flip 8230, Pearl 9100 3G, Pearl 9105 3G, Curve 8520, Curve 8530, Curve 8900, Curve 8910, Curve 8980, Bold 9000, Curve 9300 3G, Curve 9330 3G, Tour 9630, Bold 9650, Style 9670, Bold 9700, Bold 9780, Bold 9788, Curve 9350, Curve 9360, Curve 9370, Storm 9500/9530, Storm2 9550/9520, Torch 9850/9860, Torch 9800, Torch 2 9810, Bold 9900/9930

Description:
Add amazing features to your phone such as UNLIMITED Contact's (Email & SMS & Calls) LED Colors and ID. LED light customization for apps like BBM, Facebook, WhatsApp or ANY app. Call Redial, Save New Numbers, Auto Loud Speaker, Call Timer, Miss Call Notification, Vibrate on Call Connect and more.
# All Features in Version 7.0 (v7.0 must show in app screen):
- LED Caller ID: Assign LED colors for Incoming calls, Missed Calls, SMS and Email messages to UNLIMITED number of contacts. Finally control LED notification time (customizable from 5 min upto 5 hours or unlimited), 13 colors available and upto 4 colors per contact, 10 effects per each color.
- LED control for BBM, Emails(Individual EMail Accounts), Facebook, Twitter, MSN, Yahoo, Google Talk, WhatsApp, Calendar Reminder, No Network Coverage, CALL CONNECT and much more.
- LED Capture Mode: customization LED for ANY app, upto 2 apps.
- Redial Feature: Provides a redial screen for unanswered or failed dialed calls, fully customizable.
- Speaker Feature: Provides auto loud speaker activation for all calls or only selected call directions. Also has privacy feature to deactivate loud speaker when dialed call connects.
- Save Number: Prompts to save new numbers which are not in your phone contact list, for incoming or dialed numbers.
- Call Timer (duration) Notification: Provides call duration notification during a call, to avoid over talking or spending on phone calls.
- Vibrates when pressing keys on touch screens and keypad, choose between vibrating in Phone App only or (due to high demand) All Apps except the Web Browser app.
- Vibrate for all Call Events (I mean ALL of them): Call events starting from dialpad, incoming calls, dialing, Redialing (comes with this app), call busy, CALL CONNECT (can be set for outgoing calls only), call duration(comes with this app), call muted, call waiting (receiving a second call), on hold, on call end and finally on missed call.
- FINALLY remove the annoying VIBRATION NOISE / sound which is heard on the other end of your call when enabling vibrations on CALL CONNECT and other in-call events.
- All Vibration settings are Customizable: Vibration count(1 to 3 times), Vibration time (0.05 seconds and above) and pause between multiple vibrations (0.1 seconds and above) for each call event separately
- Sounds alerts are also supported for call events such as Redialing, Call Connect, Duration, Waiting, Hold, End and Missed call.
# Extra reasons to choose this app:
- Vibration and sound notifications for Missed Calls when your phone is not visible but in your pocket, bag or next to you, don't just depend on LED light.
- You have a touch screen and want to be notified if your cheek accidentally touched one of the buttons on the call screen (this app is a must for touch screen phones).
# Additional App Features:
- App Icon will NOT SHOW in app switcher.
- All features can be enabled or disabled separately, FULLY customizable.
- App Works on OS4.6.1, OS4.7, OS5, OS6 and OS7.
- Is EXTREMELY small in SIZE, with very small memory utilization. COMPARE to save your phone memory and speed !!
THIS APP IS AND WILL ALWAYS BE 100% FREE WITH NO ADS, No LIMITATION, NO INTERNET CONNECTION, NOTHING AT ALL.
Happy calling and leave a review if you like this app. To request features or SUPPORT kindly ONLY use EMAIL method.