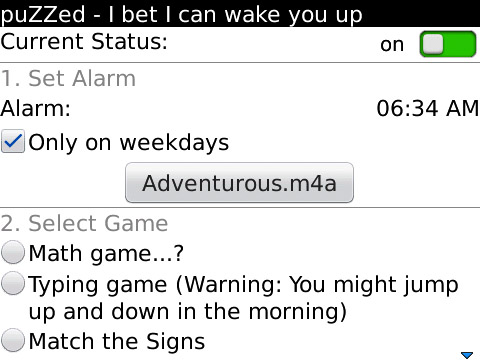 Tag:
9800 apps
puZZed
Torch apps
Overview :
free puZZed v1.3 apps for blackberry
Model:
Blackberry Bold 9000, Bold 9650, Bold 9700, Bold 9780, Curve 8330, Curve 8350i, Curve 8520, Curve 8530, Curve 8900, Curve 8910, Curve 8930, Curve 8980, Curve 9300 3G, Curve 9330 3G, Style 9670, Torch2 9810 / 9850, Torch 9800, Tour 9630
Description:
How many times have you woken up late and blamed your alarm clock? You discover that you've turned off the alarm while half asleep! This happens all too often because the snooze button turns itself off and we fall back to sleep.
puZZed is the next innovative application from qBOTron that is meant to eliminate this problem.
Once your alarm goes off, puZZed will present you with a puzzle to solve before you can turn off that annoying alarm. puZZed will ensure you exercise your brain, forcing you to think clearly before you can turn it off. You'd better wake up, the puzzles will be impossible to solve if you're still asleep! Once the alarm sounds, you will need to successfully solve the puzzle to turn it off and, before you know it, you'll be wide awake.
Simply insert the time you want to wake up into the app and switch it on – puZZed will help to ensure you never wake up late again!
puZZed Lite has two puzzle sets and does not give you the option to randomize the puzzles.
Features:
5 puzzles to solve to keep you from falling asleep (2 free + 3 paid)
Similar user interface as native Alarm app
Shuffle those puzzles!
Free future updates for paid version!
**Please note:
1. The purpose of the puzzles is NOT to entertain but to get you up in the morning :)
2. We are open for game suggestions to insert in future releases of puZZed so please don't hesitate to send us those ideas!
3. If you're not quite sure how to use the app, please send us email and we'll explain it thoroughly!